I've written this program to calculate which mobs give the most experience and mesos per hit.
Here's what it looks like: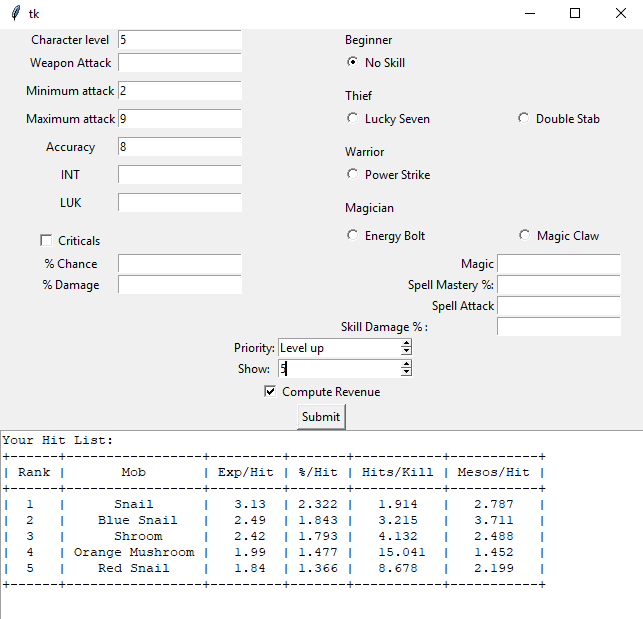 As another example, here's what ManyWorlds suggests for my own level 37 assassin: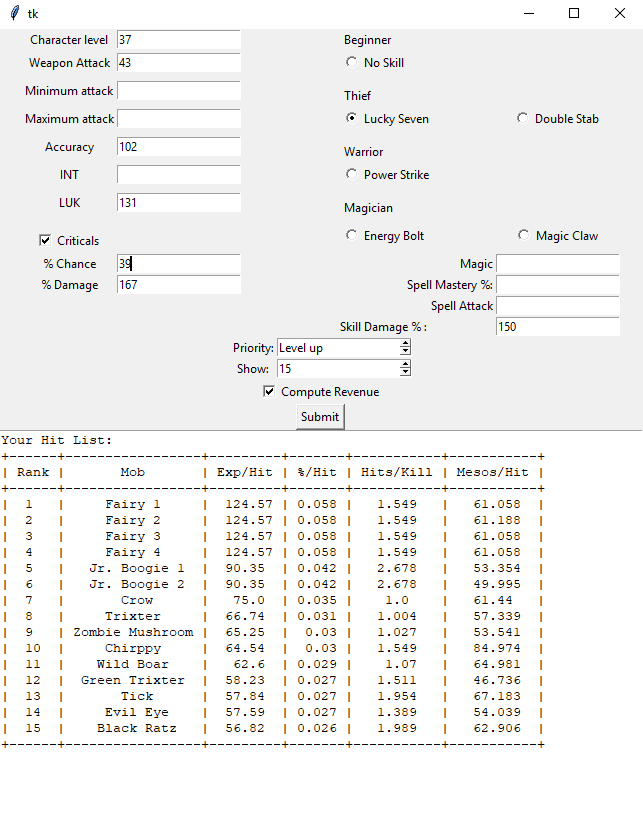 Unlike typical training guides, ManyWorlds tells you exactly which mob gives you the most exp per hit at any level.
Few things to note:
1. Program takes longer to run the higher your level is
2. Program takes longer to run the weaker you are for your level
3. You don't need to input all parameters, just the ones relevant to your skill
4. All formulae from
https://ayumilovemaple.wordpress.com/2009/09/06/maplestory-formula-compilation/
5. ManyWorlds runs an
ensemble average
over all possible ways to kill mobs, and so it gives the exact result using a recursion relation developed in the theory. NO APPROXIMATIONS.
6. If you want more information regarding the theory behind the calculations, check out
the paper I wrote
. Sections 3 and on are outdated. The program now uses an exact algorithm which is way more efficient than the one presented in the paper.
You can download the program here:
http://www.mediafire.com/file/5d9q6gb9ibopoy1/ManyWorlds.rar/file
I put it here and not on the forum so I can keep track of how many people download.
To launch the program, extract the .rar file into its own folder, and double-click on "application" file or "executable" (.exe).
If you're feeling generous, here's my Patreon:
https://www.patreon.com/meaninglesslife
I'm open to suggestions and collaborators!
Last edited: